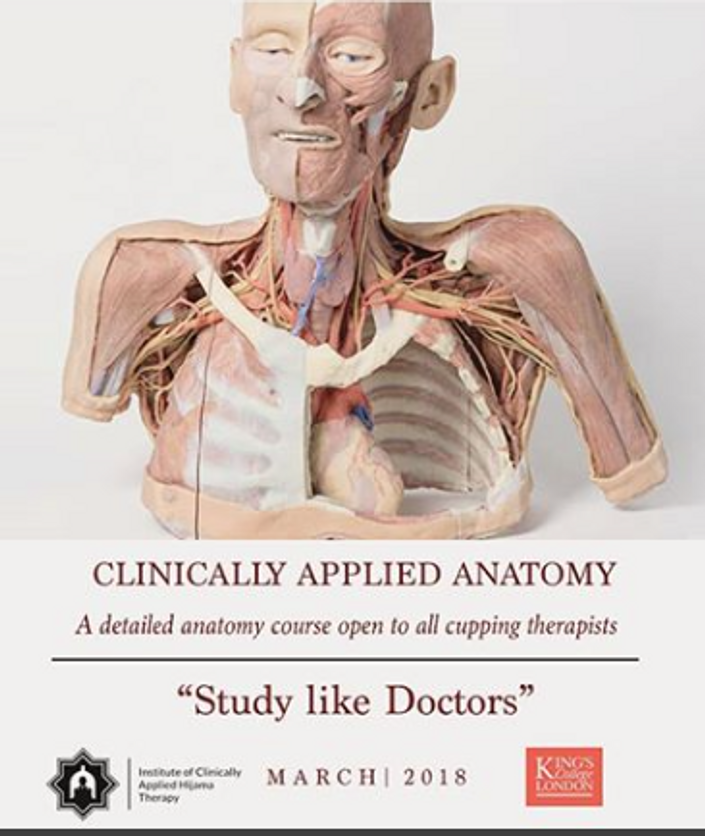 Clinically Applied Anatomy for Cupping Therapists PLUS live Cadaver Dissection Class
Be guided through the human body in our detailed study of clinically applied anatomy. This comprehensive clinical education programme allows learners to become familiar with all human structures and anatomical landmarks. Ideal for practitioners who have hands on experience with patients but wish to expand their knowledge and skill set to appreciate the human body with the same level of understanding as qualified clinicians. With a blended learning format, the course allows students to study over ten hours of clinical anatomy lectures via distance learning in the leisure of their own homes. This study is then cemented with a live dissection class taking place at Guys Hospital, Kings College London on the 22 of March 2018 (This is a 5 minute walk from London Bridge tube station). The class will allow students to get hands on with real cadaver specimens specifically prepared for demonstration purposes. This rare opportunity provides cupping therapists and Hijama practitioners the chance to elevate their level of knowledge and practise and set them apart from a wide array of novice therapists flooding the market today.
PLEASE NOTE:
The live attendance class will take place in a medical education facility and will involve the study of human body parts of both male and female specimens.
Attending students will not be cutting or dissecting human body parts themselves but will be able to handle human specimens prepared to demonstrate anatomical regions.
This workshop is not designed for the faint hearted and only serious learners should apply.
Learners will be expected to have prior knowledge of anatomy before attending the live specimen class and it is highly advisable to study the online video lectures in order to gain the most out of the session.
If you wear contact lenses it is advisable to use glasses for the live attendance class as the substance used to preserve the bodies can cause irritation.
If you are or think you may be pregnant it is to advisable to attend the live session.
The live class is not a compulsory requirement of this course.
As the anatomy module of this course forms part of the ICAHT practitioner diploma completing this class will allow you a added concession fee if you chose to study at a later date.
Introduction to basic anatomical structures of the upper and lower body and serves as an important underpinning base of knowledge. The scope of the course includes bones, joints, muscles, tendons and ligaments, as well as other tissues related to the musculoskeletal system such as fascia, cartilage, bursae and retinacula. Overall it provides the learner with an applied practical understanding of anatomy which is important to ensure technical competence and safety.
Learning Outcomes
For the module students must achieve the following outcomes:
1) Demonstrate knowledge and the location of basic structural musculoskeletal anatomy.
2) Demonstrate basic practical palpation of musculoskeletal anatomy.
3) Demonstrate basic understanding of the functions of anatomical tissues in the body.
Course Curriculum
Introduction
Available in days
days after you enroll
SECTION 1: Anatomical Language & Anatomy of the Shoulder
Available in days
days after you enroll
SECTION 2: Anatomy of the Elbow, Wrist & Hand
Available in days
days after you enroll
Frequently Asked Questions
When does the course start and finish?
You will gain immediate access to the online element of this course and you can take as much time as you wish to complete it. The live attendance class will start at 9.30am and finish at 4pm on Thursday the 22nd of March 2018.
How long do I have access to the course?
For the online element of this course you will have a minimum of 2 years access.
Is it permissible for muslims to do this course?
From our sources of Islamic guidance there is no issue with using cadaver specimens to further ones knowledge in this context. We will not be dissecting but will be viewing the specimens already prepared for medical students. It is not common for non medics to have the chance study at this level and we are opening the horizons and avenues of learning for our practitioners to raise their level. Obviously those who are not comfortable with it need not attend but if you are interested but not sure where it stands Islamicly then please refer to your sources of religious guidance in order to make your decision.